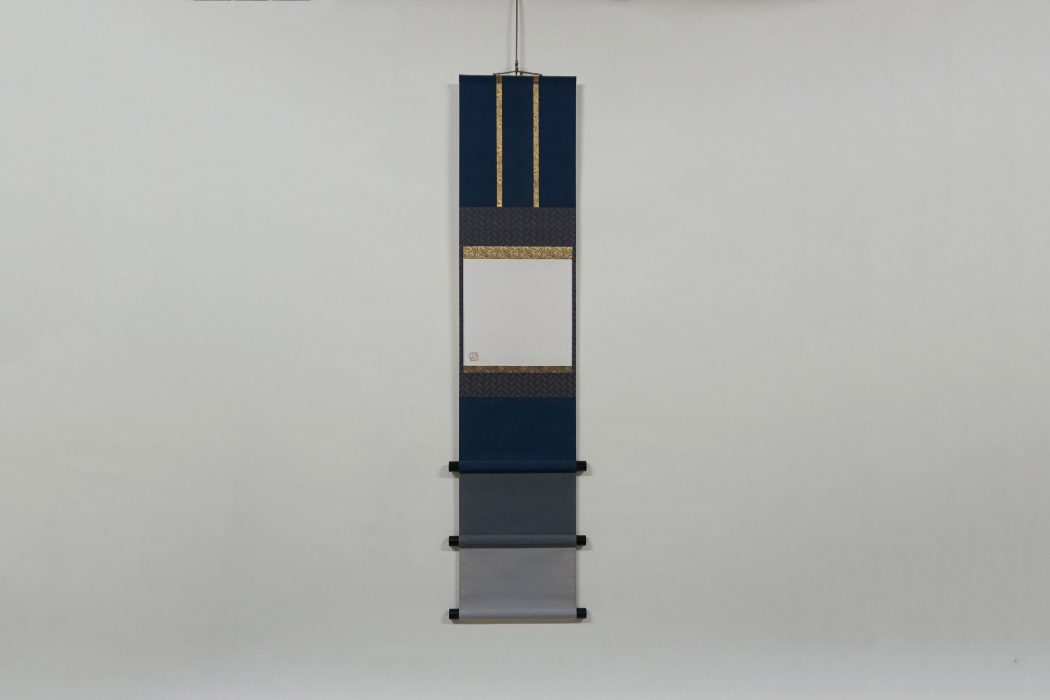 普段見慣れているものとは少し違った印象の「掛け軸」。
1500年前に中国から日本に伝わって以来、ずっと変わらない形をしている掛け軸。床の間で下から見るように設計された美しい構造は、今でも健在でしょうか?掛け軸のルールに、性別や社会的属性など、現代社会の環境に重ね合わせた。
社会の中で〇〇はこうあるべきという、目に見えない抑圧が多く存在しているように感じる。一人一人得意なこと、苦手なこと、出来ること、出来ないことは違うのに調和を求める社会で意志を持たずロボットのように順応してゆく人々。異質なものを受け入れにくい社会の中で、自身の本音より周囲に好まれることを無意識に選んでいるように思う。一方、掛け軸の構造は昔から変わらない決まりごと(=布の幅や長さの比率)がある。その黄金率と言うべき基準の比率を何も遜色の無い完璧な人間と例え、其々にどこか比率のおかしな掛け軸を"個性をもった人格"と見立てた。一部が長すぎたり、上下が逆さまになっていたり、斜めになっていたり。
この作品は私が設計図を描き、それを基に伝統工芸である表具師の夫が仕立てている。表具師の仕事は掛け軸、額装、屏風、巻物といった美術品の修復や新調、襖や障子の貼り替えなどを行う、平安時代から存在している裏方の仕事。通常の掛け軸とは異なる形状を試行錯誤しながら制作した。
本紙が白紙なのは、メッセージで伝えたい事は形で表現しているためである。
Hanging scrolls" look a little different from what we are usually accustomed to seeing.
Since it was introduced to Japan from China 1,500 years ago, the kakejiku has remained in the same form. Is the beautiful structure designed to be viewed from below in the tokonoma (alcove) still in place today? The rules of the hanging scroll were superimposed on the environment of modern society, including gender and social attributes.
I feel that there are many invisible oppressions that exist in society that tell us how we should be. Each person has different strengths, weaknesses, abilities, and weaknesses, but in a society that seeks harmony, people conform like robots without a will. In a society that has difficulty accepting the different, people seem to unconsciously choose what is preferred by those around them over their own true feelings.
On the other hand, the structure of a hanging scroll has a rule (i.e., the ratio of the width and length of the cloth) that has not changed since ancient times. The standard ratio, which should be called the "golden ratio," is compared to a perfect human being with no inferiority complex, and a hanging scroll that has some odd ratio is considered to be a "personality with individuality. Some are too long, some are upside down, some are slanted, and so on.
I drew the blueprint for this work, and my husband, a traditional craftsman, tailored it accordingly. The work of a table clothier includes the restoration and renewal of works of art such as hanging scrolls, frames, folding screens, and scrolls, as well as the replacement of sliding doors and shoji screens, a behind-the-scenes job that has existed since the Heian period (794-1185). The shape of the scroll, which differs from that of a regular hanging scroll, was created through a trial-and-error process.
The reason why this paper is blank is because what we want to convey in the message is expressed in the form.