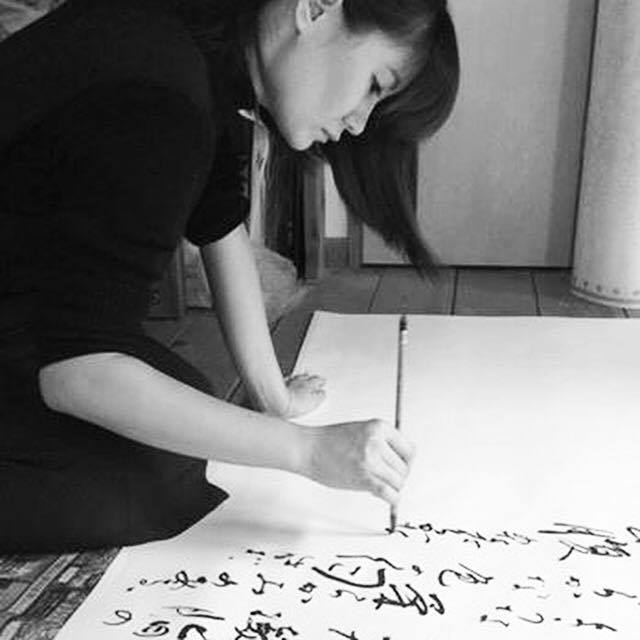 國廣 沙織  Saori Kunihiro
書家
広島県出身 京都在住
6歳より書を始める。2011年より「書」を基盤として、国際交流活動を重ね、商業ロゴ制作、海外映画内の文字提供、ひらがなをモチーフにしたアクセサリーの制作、京都市パリ市の合同アートプロジェクトに参加など活動は多岐にわたる。「書」の中でも主に優美な仮名を題材とした作品を制作している。
I work as a contemporary artist and a jewelry designer. Through the basis of my childhood learning Japanese calligraphy. I am aspiring to find the possibilities of calligraphy in these modern times. From Japanese calligraphy, I was most inspired by the "Kana" of the Heian period, with its original beautiful flow of words.
I made a hiragana-motif accessary brand in 2015, conducting events in both foreign countries and domestically. Through this experience, I was able to learn branding and management.
By designing jewelry, collaborating with the clothing brand "BEAMS", and exhibiting at the Tokyo collection 2020 Spring/Summer, I was able to feel the demand of using Japanese words as fashion.
It made it possible for me to shape calligraphy into "design" which can be worn, rather than a decoration inside the room which can be "seen".
In 2019 I moved from Tokyo to Kyoto, to countinue my work using Japanese calligraphy as contemporary art for my creation.